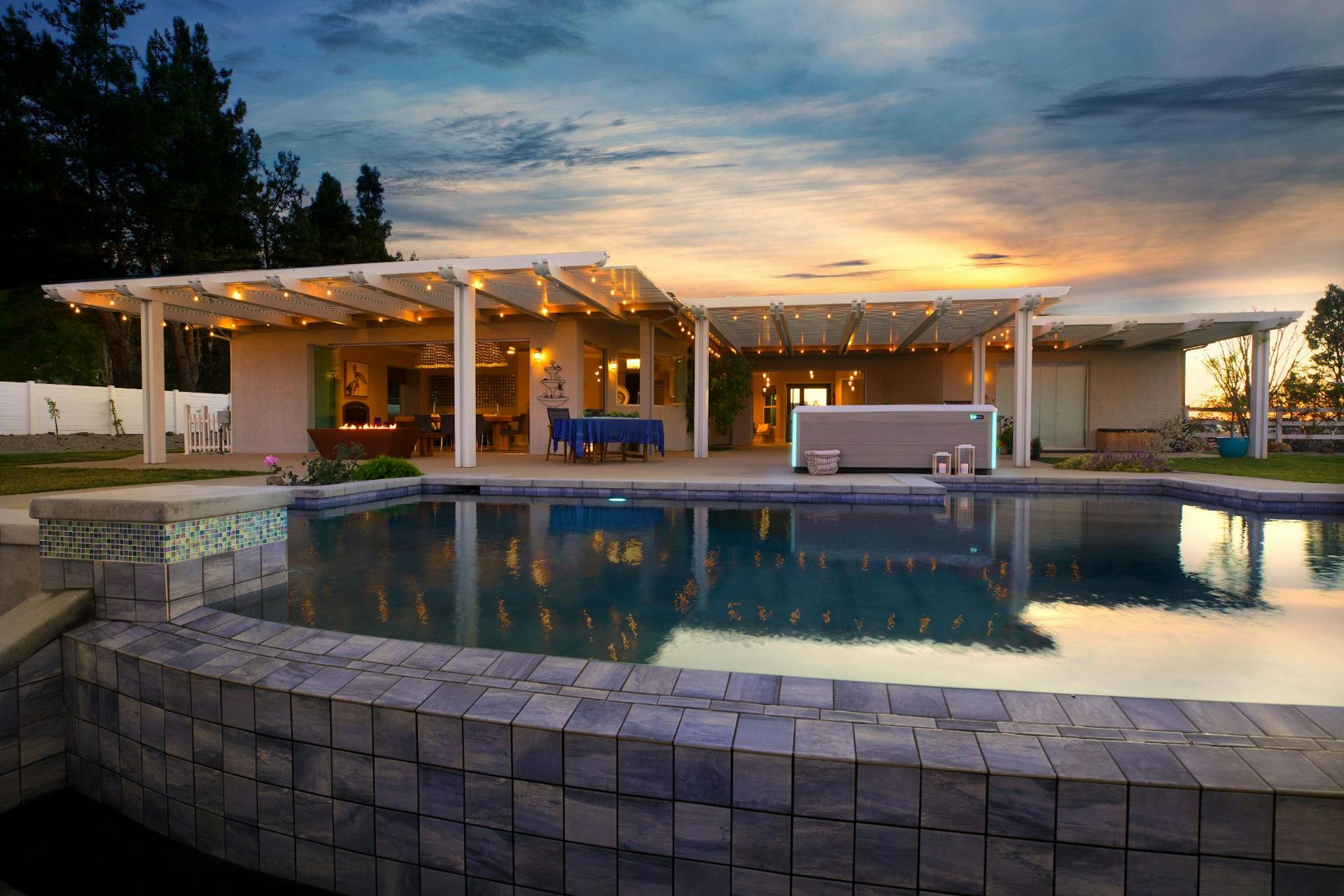 Hot Tub Buyer's Guide
Are you considering purchasing a hot tub? You've come to the right place! We've put together the complete guide that answers the most common questions about why and how to purchase a hot tub. First, we'll discuss the reasons to consider hot tub ownership, so you can decide if it's worth the investment. Then, we'll walk you through the steps to buying a hot tub, from zoning requirements to the post-delivery inspection.
Reasons to Buy a Hot Tub
Health & Wellness
Achieving optimal health and wellness requires much more than just healthy eating. High-pressure work environments, long commutes, children's extracurricular activities can all take a toll on your health if not addressed. Today, many people turn to hydrotherapy to reduce stress, improve circulation, and to alleviate joint pain.
Hydromassage is administered in three parts: heat, buoyancy and jets. Soaking in warm water expands circulatory organs. Buoyancy reduces your body weight 90% [1]. Massaging jets reduce physical tension and mental stress. The elements of hydromassage, working together, provide numerous benefits to your long-term health.
Relaxation & Leisure
A common reason you might consider buying a hot tub is to simply relax. Hot tubs provide immense relaxation and allow you to enjoy some much needed "you time". A 20-minute soak in a hot tub can help reinvigorate your body and clear your mind [2]. Complete relaxation can be achieved by closing your eyes and taking occasional deep breaths.
Family Time
Hot tubs are an excellent means of getting some face time (of the non-app variety) with your children. In today's constantly "connected" world, hot tubbing provides your family with a much-needed break from smartphones and tablets. With a hot tub, you can spend more time together.
Entertaining Guests
Another great reason to purchase a hot tub is for entertaining guests. Hot tubs are perfect for social events (i.e. barbecues, birthday parties, etc.) and will keep your guests entertained and happy. Effortlessly host backyard parties by letting your guests relax and enjoy the warmth and benefits of your hot tub.
Steps of Buying a Hot Tub
When you're in the process of purchasing a hot tub, there are important measures you should consider – acquiring a contractor, deciding where you want your hot tub placed, and more. Below are several steps we recommend taking before making a final decision.
Installation Prep
When determining how your hot tub will be installed, you may want to schedule an in-home consultation with the local dealer that will be providing your hot tub. The company representative can help answer questions about placement, zoning approval, installation access and more.
For non-permanent installations, you can easily purchase a hot tub with a plug and play connection that fits a standard 120 volt outlet. In this case, there is no need for an in-home visit.
Do you live in Idaho? Schedule an In-home Consultation with us.
Electrical work for a hot tub must be done by a licensed electrician. Regardless of whether your hot tub will be permanently installed or not, it is best to consult with a certified dealer that is licensed in electrical work/installation to set up and perform the installation.
Zoning Approval
Before purchasing a hot tub, you'll need to check with the building codes in your area to make sure you are allowed to install a hot tub in your desired space. Some local municipalities require a permit to install a hot tub. Not obtaining a permit and gaining approval on your hot tub installation can result in consequences such as fines or hot tub removal. Check with your state and government laws to see what is (or what is not) required to install your hot tub.
Indoors/Outdoors
When purchasing a hot tub, you'll also want to consider if you'll be placing the hot tub outdoors or indoors. If you're placing your hot tub outdoors, make sure the build quality of your hot tub spa can hold up to local climate. While acrylic is the most common spa shell material, other options include roto-cast polymer, vinyl and wood. Whether you put your outdoor spa on a porch, patio, or deck, you will want to prepare the site prior to the delivery of your hot tub. Before deciding on the size of your hot tub, be sure to measure the area your hot tub will be placed in.
If you plan to have your hot tub indoors, make sure doorways and hallways are large enough for the hot tub to pass through. Again, the size of your hot tub and desired location play a big role in whether or not the hot tub will fit properly. Determine the size of your space and decide if your prospective hot tub is of an appropriate size. Additionally, it is important that your indoor location is leveled and can support the weight of the hot tub. If you are considering an acrylic hot tub, be sure that your space can uphold 150 lbs per sq. ft of pressure.
Hot Tub Surface
When installing your hot tub, it is recommended to have it placed on either a poured concrete patio, a spa pad, or a solid deck. As aforementioned, you'll want to ensure that the site your hot tub will be installed on is leveled, flat, and solid so that it can support the weight and pressure of the hot tub.
If you are placing your hot tub on a deck, make sure your deck is reinforced and sturdy enough to support the hot tub. To determine if your deck is sturdy enough, consult with a professional deck installer, with hot tub experience if possible, to have your deck inspected. Additionally, you may want to consider creating a walkway to your hot tub if you're placing it outdoors. A walkway can help you avoid walking on dirt, grass, and other debris before setting foot in your hot tub.
What you should avoid using as a surface for your hot tub are paving stones. Paving stones can be uneven and ultimately cause wear and tear on your hot tub's frame. According to coverguy.com, cement pavers (also known as patio stones) are no longer a popular choice "due to their tendency to crack or sink un-uniformly." [3]
Easy Access?
Another key factor you'll want to consider is if your desired site is easily accessible for your installers. It is important that you properly survey your designated site to determine if the installers can deliver and install your hot tub without hassle. This step can also tie into the installation preparation step. You'll want to make sure your hallways are clear of objects such as desks and other furniture and that the room is easy to access if you are installing your hot tub indoors. If outdoors, ensure the area is clear of possible outdoor furniture, lawn equipment, etc. to ensure a smooth installation. Preparing and clearing your site for installers to easily access also prevents possible damage to your belongings or to the hot tub itself.
Nearby Water Source
It is important to determine if the site you will place your hot tub in has a nearby water source. In the event that the hot tub you are considering needs a water connection, you will want to ensure that your desired site can provide your hot tub with access to water. Additionally, you should make enough room for drainage. According to swimuniversity.com, "Hot tubs must be drained and refilled every 3 to 4 months per year as a form of water care."
Determine Your Budget
Before researching specific hot tub models, consider what your budget will be both for the initial cost of the hot tub as well as ongoing expenses, such as water care products, replacement filters, etc. We go into more depth about the total cost of ownership in the next section. As far as the initial cost of buying a hot tub, typically most models fall into one of three price categories:
Entry level: $2,500 - $4,999

Mid-range: $5,000 - $9,999

High-end: $10,000 - $19,999
Hot tubs that fall under the Entry-level tier are either:
Plug-n-play 110v spas with acrylic shells

Off-brand hot tubs meant to undercut name brand spas (later in this guide we will go into reasons why you should avoid off-brand hot tubs)
If you're shopping on a tight budget, plug-n-play hot tubs are an excellent choice that even offer some advantages over Mid-range and High-end spas. Most plug-n-play models have a dry weight of 300-400 lbs, making them much easier to move. They can even fit inside a second-story apartment, and don't require any electrical work – just plug and play!
Deciding between a High-end or Mid-range hot tub is a bit more challenging. Much like buying a car, you need to decide what features are must haves and what features you can live without. For some buyers the most important factor is ease of water care, for others it's the number and type of massage jets, and sometimes the deciding factor is what color the hot tub comes in!
Total Cost of Ownership
You're probably already familiar with the term "Total Cost of Ownership", but you may not know all the contributing factors when it comes to hot tubs. By far the largest cost is the hot tub itself. Additional costs include:
Upfront Costs
You'll want to remember that the operation costs, hot tub accessories, and any chemicals used are all factors included in the total cost of ownership. Expenses for your hot tub do not stop at the initial purchase of the hot tub. In fact, site preparation, electricity bills, and repair expenses are also included in your total cost. Other possible factors in the total lifetime cost of your hot tub can include: poor insulation, thin spa covers, cheap equipment, and poor workmanship.
Determine How You Will Pay
You will need to determine if you'll be using cash or if you will finance your hot tub. If you intend on financing your hot tub, you should consider discussing the matter first with the hot tub retailer. The retailer may offer you the ability to finance your hot tub via a Home Improvement or Outdoor credit card.
You can also consider financing through your personal credit card or a home equity loan. However, you should consider your line of credit and how hefty the expense of your hot tub is. Think about the initial and additional costs of your hot tub before opting to use your credit card or a loan. Additionally, home equity loans, where your home is up for collateral, aren't very desirable and you shouldn't consider them as a first option. It is also important that you are comfortable with the price range of your desired hot tub and that it aligns with your budget. Nevertheless, if the hot tub you are considering does not fit your budget, you can check to see if there are any promotions or offers on the hot tub, negotiate the price, or search for a similar hot tub that is more in-tune with your budget.
Want to learn more about financing? Check out our Financing Guide.
3. Research Hot Tub Brands
Quality vs. Price
As aforementioned, purchasing a hot tub based on how affordable the initial price is may not be a good thing to do. Saving money up front could cost you in repairs and additional electrical costs in the long-run, thus resulting in you spending unnecessary money. Researching and purchasing a hot tub built with quality can actually help you save on costs in the long run and prove to be more efficient. Conduct research on quality hot tub brands before you impulsively buy a hot tub that's "on sale" or available for a low price.
Reliability & Safety
One of the main factors to consider when deciding where to buy your hot tub is the reputation and reliability of the manufacturer and their hot tubs. When researching for quality manufacturers, check how reputable the manufacturer is by analyzing reviews and checking for recommendations and references.
The hot tub models you look into should be well-built, durable, and made with quality materials. As stated by calderaspas.com, "Buying a hot tub that will last over time is an important consideration for potential spa owners." [4] Do not purchase hot tubs directly from online sellers and hot tub exhibitors at fairs, carnivals, and parking lots as they are often not very credible and look to upcharge customers. Reputable businesses like Leisure Time Inc. have local showrooms and services, whereas these types of hot tub exhibitors do not. Also note that when you're searching for a proper hot tub model, it should be tested independently by a testing agency such as UL or ETL.
Build Materials
Another factor you'll want to consider is the material of the hot tub. There are many types of material a hot tub can be made out of. However, two of the most common ones include acrylic shell and roto-molded. The difference between a roto-molded hot tub and an acrylic shell hot tub is generally the price and the craftsmanship. Acrylic material is very durable, versatile, and elegant. Acrylic can be easily molded into complex shapes and customized for enhanced comfort and personalized seating. Supported by a frame structure complete with wooden or synthetic-type cabinets, acrylic spas can often be quite costly, and that is where roto-molded spas differ.
Roto-molded spas are built with the shell and cabinets conjoined. This allows the spa to have durability and a maintenance-free structure. Roto-molded hot tubs can also come with many of the same features as an acrylic shell spa, but may include less jets. Though cheaper, note that roto-molded spas are not all built the same and that manufacturers of this tub may skimp on necessary features. Thus, it is important to consider the features that are important for your hot tub to have, as well as the quality.
Ozone
Another factor to consider is if the hot tub you are researching comes with ozone technologies. Ozone technology, simply referred to as ozonators, care for the spa water and use ultraviolet light to eliminate bacteria and Corona discharge, which is an electrical discharge that occurs through the ionization of a fluid (i.e. the spa water). Ozonators can be found inside the front panel of the hot tub and are generally in most standard hot tubs. It is recommended to have a hot tub with ozonators or to install ozonators in your hot tub (if there aren't any) because they help keep the water clean. Note, however, that ozonators do not act as a replacement for the use of chemicals.
Plumbing
Consider the plumbing aspects of the hot tub you are researching. Check to see what filter system the hot tub uses. Is it a suction or pressure type? Most modern-day spas use the suction filter system which are always top mounted for easy cartridge access. However, there are still spas available that use pressure type filter systems which is housed in a sealed canister, rather than incorporated with a surface skimmer. Determine also the pump and heater system of the spa. Spa pumps provide water flow to the jets. It is important to note that you should not be drawn to buy a hot tub with several pumps (as this can decrease the efficiency of your hot tub and result in energy costs). Instead, your hot tub should have a balanced amount of jets to pumps.
Other aspects of plumbing to analyze include the air induction, air blower, drain, and any spa lights the hot tub you are considering may have. Most spas come with a drain bib or "plastic faucet" which can be found in the accessible panel. However, there are some spas that have to be siphoned and do not include a drain, which you will have to be aware of. Overall, in terms of plumbing and the proper wiring of a hot tub, it is always best to consult a professional contractor and/or electrician.
Checklist of Desired Features/Specs
To better select a hot tub that fits your needs, you should create a feature checklist to ensure the hot tub you are considering aligns with the hot tub you envision. Key features or specifications you should include on your list are:
Size
In terms of size, you should think about how many people will be using your hot tub. How many members are in your family? Are you planning to use your hot tub to entertain guests? These are questions you should consider when deciding on the size of your hot tub. Hot tubs typically come in 3, 6, 7, and 8 person sizes. Nevertheless, before impulsively buying a hot tub based on its looks or cost, you should consider the space of the site you will place your hot tub in. The size of your site plays a large role in what size hot tub you should get.
Efficiency
Everyone wants a hot tub that is efficient. Some manufacturers offer efficiency calculators so that you can get an idea of how much your monthly electrical costs will be. Other ways that you can judge efficiency is by comparing build materials, plumbing. Some manufacturers also include heat efficient technologies into the design of the spa. Reading up on product brochures or talking with local dealer representatives will help you find these technologies.
As for efficient technologies, search for models that used well-made, efficient jets and pumps to reduce on the amount of energy that is used and help you save on electrical or energy costs. Also consider brands that construct their hot tubs with full foam insulation, which allows the hot tub to retain heat better and helps you further save on energy costs.
All new hot tubs should come with a basic thermal cover. When deciding on a hot tub, beware of any dealers that try to pass off the thermal cover as a bonus item, as they are meant to be included.
Jets
As for jets, research brands that use well-engineered jets that provide a great performance without using too much energy. Your hot tub's jets should emit enough power to give you an invigorating hydromassage without running up your energy bill. Make sure that the hot tub has a balanced amount of jets that are made with quality materials and designed to be efficient and durable.
Lounge/No Lounge
When researching hot tubs, you should consider if you want the hot tub to have lounge seats or not. Lounge seats, or "reclining seats" provide an intensive hydrotherapy experience. They are also perfect for individuals purchasing a hot tub for health and relaxation benefits. The seats are molded in a laid-back position and typically include a series of jets for more relaxation. When deciding if you want a lounge seat or not, you should think back to how much space you want your hot tub to have and how many guests you'd like to fit in your hot tub at a time. Lounge seats can take up room in your hot tub and result in less seating. Therefore, if you plan to entertain guests frequently or have a large family, you may want to opt for a hot tub with no lounge seat. Nevertheless, there are also models available that offer semi-reclined seats in an effort to increase the amount of space available while still providing the "lounge experience." [5]
Voltage
When looking at the voltage of hot tub models, you should consider if you want your hot tub to have a voltage of 120V or 240V. What's the difference? The heating time of the hot tub, the jets, and the convenience. According to lesliepool.com, "A 240V hot tub will heat up faster than a 120V hot tub and will have power to support more jets." Nevertheless, there are individuals who opt for a 120V hot tub for portability and convenience. This is because 120V hot tubs do not require additional wiring. Note that most roto-molded hot tubs use 120V while many acrylic hot tubs use 240V.
Manufacturer Incentives/Rebates
When you research hot tub brands, it is beneficial to look for any deals or incentives from that manufacturer that you can bring with you on your way to a hot tub showroom. Incentives, promotions, or rebates can help you save money upon or after your hot tub purchase and can ultimately bring the hot tub closer to your budget. Don't hesitate to call the hot tub retailer before your visit to ask if there are any current promotions or offers.
Manufacturer Warranty
It is important to find and read through a hot tub manufacturer's warranty before deciding on their hot tub. You should check to see if there is a pro-rate or if on-site service is provided, among many things. You should also discover if the hot tub services will be taken care of by the dealer itself or a third party. Does the warranty cover repairs or damages to the hot tub? Does the warranty only cover parts? How long is the warranty for? These are questions you should ask while reading through a manufacturer's warranty.
4. Research Local Dealers
Types of Sellers
There are primarily two types of sellers in the hot tub industry: reputable and non-reputable sellers. Hot tub exhibitors at fairs, carnivals, or parking lot sales generally aren't reputable and often look to engage potential buyers into high-pressure situations. Non-reputable sellers do not have local showrooms. As a general rule, big purchases should not be impulse buys. Splurging on a trip to the grocery store won't have a big impact on your bottom line, but allowing yourself to be pressured into buying an off-brand hot tub from a seller that won't be around to service it can be a costly mistake. The mark-down doesn't matter if it's not a brand or dealer that you can trust. Hot tubs are meant to improve your quality of life, but purchasing from a non-reputable seller can have the opposite effect.
We recommend that you research local dealerships that have showrooms and offer wet tests, allowing you to try out the hot tub beforehand. Look at reviews of dealers online to get an idea of what it's like working with them. Quality dealers have high referral rates and great online reviews. When trying to determine dealer credibility, you should ask for references from hot tub buyers in your neighborhood in addition to online research.
Years in Business
When researching local hot tub dealers, consider how long they've been in business and how long they have been selling the hot tub brands in their showrooms. This will give you an idea of how much expertise they have in selling, installing, and servicing a particular brand. You'll want to work with a business that is knowledgeable and highly-praised in the hot tub industry and has spent many years selling quality hot tubs to customers.
In-House Service Staff
A hot tub dealer with an in-house service staff is more dependable and should be greatly considered, with one of the primary benefits being communication. It's a lot easier for things to fall between the cracks when separate companies have to coordinate with one another. Having an in-house team also means the service professionals are well versed with the particular brands sold by the dealer. That means faster repairs, lower service bills and less hassle for you.
Parts On-Hand
If you or your significant other is a Do-It-Yourselfer, consider whether or not the dealers you are researching carry spare hot tub parts. Some, but not all, offer replacement pumps, jets, filters, plumbing parts, handrails, etc. If you prefer to tackle the project on your own, it's nice to have a local dealer to purchase spa parts from, instead of waiting for an online delivery.
Current Specials
Not all deals on hot tubs are bad. If you've determined that a hot tub seller is reputable, purchasing during a sale is a smart decision. Many sales events put on by dealers are at least partially backed by the manufacturer of the hot tub. Both the manufacturer and dealer will work together to lower the price in an effort to increase sales for a short period. The dealer's goal is to sell enough hot tubs to offset the lower margins being made on each spa. This is a win for you, the buyer, and it can be a win for the dealer if they meet their quota.
When researching dealers, it's always a good idea to check their website for any upcoming sales events or specials. If you can't find anything on their website, you can also give them a call and ask directly.
Modern Website
A reputable dealer will have a well-constructed website that lets you know about their history and the brands they carry. They will make it easy to contact them, and will respond quickly to your messages. Some dealers will go as far as adding product pages that provide pictures, and information about features and specifications of each hot tub model that they sell. This makes it easy for you to learn about various brands/models before visiting the showroom.
Visually Inspect Showroom Models
When you go to a showroom to select your desired hot tub model, make sure to thoroughly inspect the models on display in the showroom. Don't be afraid to ask the retailer questions about the available models. You should ask what type of brands the hot tubs on display are, what material they are made out of, and what features each model offers. Take note of the size dimensions of each hot tub on display and ensure that when you select the model of your choice, that it will precisely match the model displayed in the showroom.
Wet Test Appointment
You should always wet test a hot tub before you decide to buy it. Wet testing is the act of trying out a filled hot tub buy soaking in it and testing its features. It is important to test each model you are considering along with additional individuals who will often use your hot tub as well. You can schedule your wet test appointment before arriving at the showroom.
After you wet test your hot tub models of interest, leave the showroom. This allows you to test other models of interest at other hot tub dealers. It is best to schedule a specific day to wet test all possible hot tubs of interest and to try each hot tub one after another to feel the difference. Be wary of dealers that do not let you wet test their hot tubs. In that case, it is best to go to a different dealer.
Sleep On It
After reviewing all of your options, you should go back home and sleep on it. Do not impulsively buy a hot tub the same day or feel pressured by the retailer to purchase a hot tub in that instant. You will need time to evaluate all of the hot tubs you reviewed and ask yourself questions to make an informed decision. Think about:
The hot tub dealer's experience (i.e. how long they've been selling)

The quality of the brands and how long the dealer has carried them

Features such as technologies, jets, and sanitation systems of each hot tub model

Payment options and warranty

Hot tub add-ons (i.e. cover, steps) and accessories if applicable
Relationship with Sales Rep
When you're in the process of buying a hot tub, you should make sure you can talk freely and comfortable with your sales representative. Buying a hot tub should be a great experience and should not be stressful. Consider how well the sales representative communicates with you. Do they pressure or rush you? Are they inconsiderate of your needs? If so, you should consider a different retailer.
Buy Your New Hot Tub!
Alas, you can purchase your hot tub! If you have completed all of the steps listed above, done considerable research and testing, and have slept on and solidified your decision, you can sign the papers to own your new hot tub. Once your hot tub arrives, be sure to inspect it for damages and make sure the hot tub and features work properly before the delivery team departs.
Hire Licensed Electrician
When it comes to installing your new hot tub, be sure to hire a licensed electrician to wire your home properly. Unless you are properly trained in electrical wiring and plumbing, you should never attempt to perform a DIY installation of your hot tub. Hiring a licensed electrician will ensure that your hot tub is set up and installed correctly and can prevent possible issues. If the dealer you're receiving your hot tub from has an in-house staff, they may most likely have an electrician on board to perform the installation.
Post-Delivery Inspection
As aforementioned, you will want to check your hot tub for damages and to make sure it is operating properly. Test the jets and pumps to make sure they work efficiently and at the appropriate power level. Check the heating time of your water (in accordance to the voltage you selected), and make sure the hot tub is designed correctly and constructed properly. Additionally, if the hot tub dealer's in-house staff is installing the hot tub, ensure that they have installed your new hot tub correctly. After ensuring your hot tub is running smoothly and is properly installed, you can enjoy your new hot tub!
If you've made it this far, you've come a long way! Great job, hopefully you've learned some valuable information on what it takes to purchase a hot tub or pool. An educated shopper is always going to make a better decision and be happier in the end. Now's the fun part, check out our Project Planning to get started on getting the best hot tub or pool for your home!
Stay relaxed, friends!
Sources
https://www.hotspring.com/hot-tubs-101/hot-tub-benefits/hot-tubs-hydromassage-benefits

https://www.hotspring.com/blog/art-hot-tub-relaxation

https://www.thecoverguy.com/backyard-blast/tips-for-creating-a-custom-hot-tub-pad

https://www.calderaspas.com/planning-tools/how-buy-hot-tub

https://www.hotspring.com/do-i-choose-spa-lounge
Browse Hot Tubs & Pools